Unlocked Presents
Caspa
Mystic Grizzly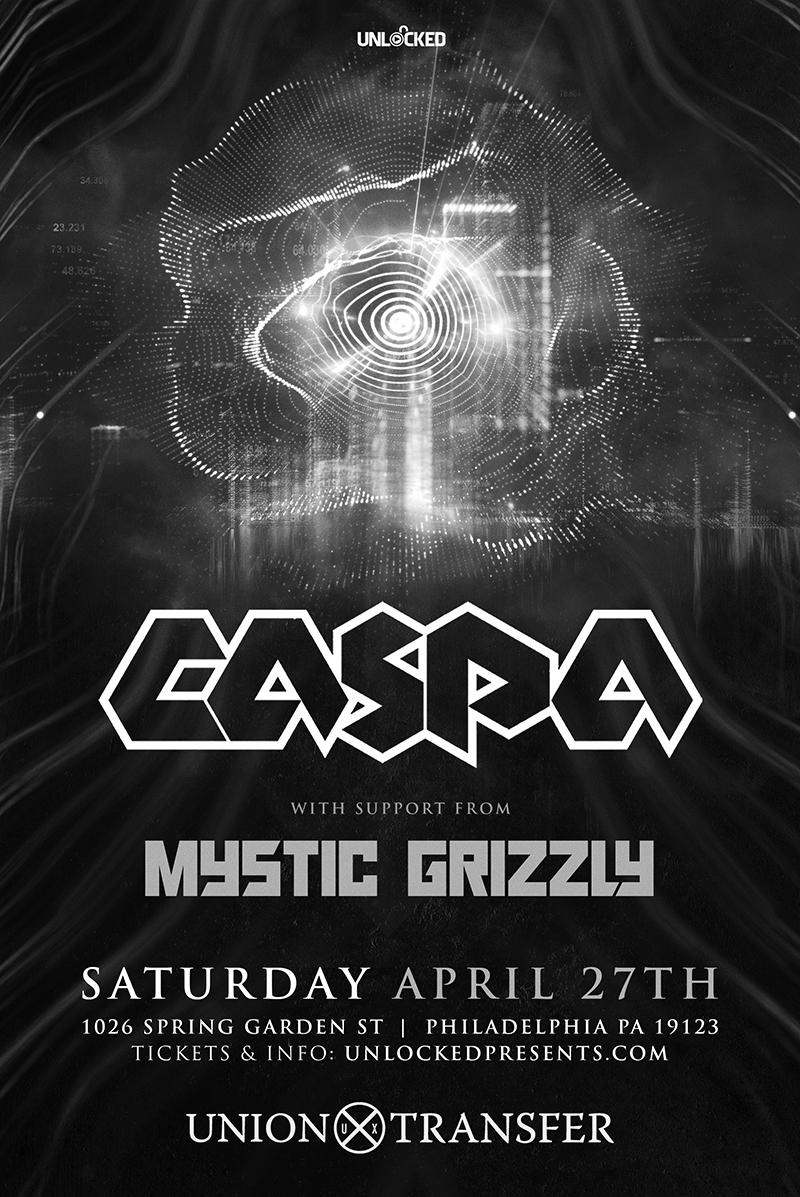 Show | 8:30pm // Doors | 8pm
Caspa
UK bass pioneer, DJ, label owner, ex-pro basketball player, straight talking dubstep champion, dopest ghost: Caspa can be introduced in many ways. But the best is through his beats. His decade-deep discography has dented dances since dubstep's earliest chapters. Over three studio albums, four mix compilations, 30+ singles and many high-profile remixes including Depeche Mode, The Prodigy, Deadmau5, Kaskade, Swedish House Mafia, Grand Puba, Ludacris, Miike Snow and TC, his precision heavyweight productions have been released on eminent labels such as Digital Soundboy and Tempa as well as his own influential imprints DubPolice and Subsoldiers. Both iconic dubstep brands that have played a major role in the worldwide dubstep phenomenon and boasted the earliest work of some of the scene's most respected creative artists like L-Wiz, Subscape, The Others, Emalkay and Caspa's partner in grime Rusko. 
DJ-wise he's just as renowned: West London to Cape Town via USA, Australia, India and beyond, Caspa demonstrates how uncompromised club dynamics can work from some of the world's most iconic festival stages (Glastonbury, Sonar, EDC Vegas, Dour Festival) to some of the world's most respected club institutions such as Fabric whose mix CD series featured his and Rusko's era-defining, generation-inspiring 'Fabriclive 37' album. 
Fast forward: Caspa continues to innovate at the heart of UK bass culture. From 2014's lean, molten back-to-basics '500' concept to 2017's sub-stacked 'Vibrations' series by way of his and Rusko's rule-wrecking slew of genre-burning EPs and well into the future, Caspa continues to push the music he lives his life for in many ways. But the best has yet to come.
---
Mystic Grizzly
Mystic Grizzly, AKA Jordan Hoffman, is a 21 year old musician, DJ, and electronic music producer from Fort Lauderdale, Florida. He has been a guitar player for 8+ years and also plays percussion, harmonica, and ukulele. He has played in several bands throughout his lifetime and has now taken his musical expertise and passion to another level, focusing his energy and efforts on creating extremely experimental electronic music.
He specializes in raunchy psychedelic grime, psybass, glitch hop, space bass, and tribal beats. Understanding the true spiritual effect and impact music has on humans and on life in general, he has shifted his intention to love and crafts his sounds and songs to give his listeners a one of a kind, mystical experience.
He dives deep within himself to extract the most raw, mind bending, brain warping, psychedelic sounds complimented perfectly with ambient melodies and earthy, tribal atmospheres. He has produced and mastered over 100 original songs and usually plays an all original set. He has a calm, humble appearance but an animalistic spirit. His out-of-this-world dancefloor bangers always leaves his crowds howling at the moon. An artist on the move, he is a rising star in the bass music scene, growing in popularity and demand.