Alt 104.5 Presents | Resilient Little Tour
MisterWives
Frances Forever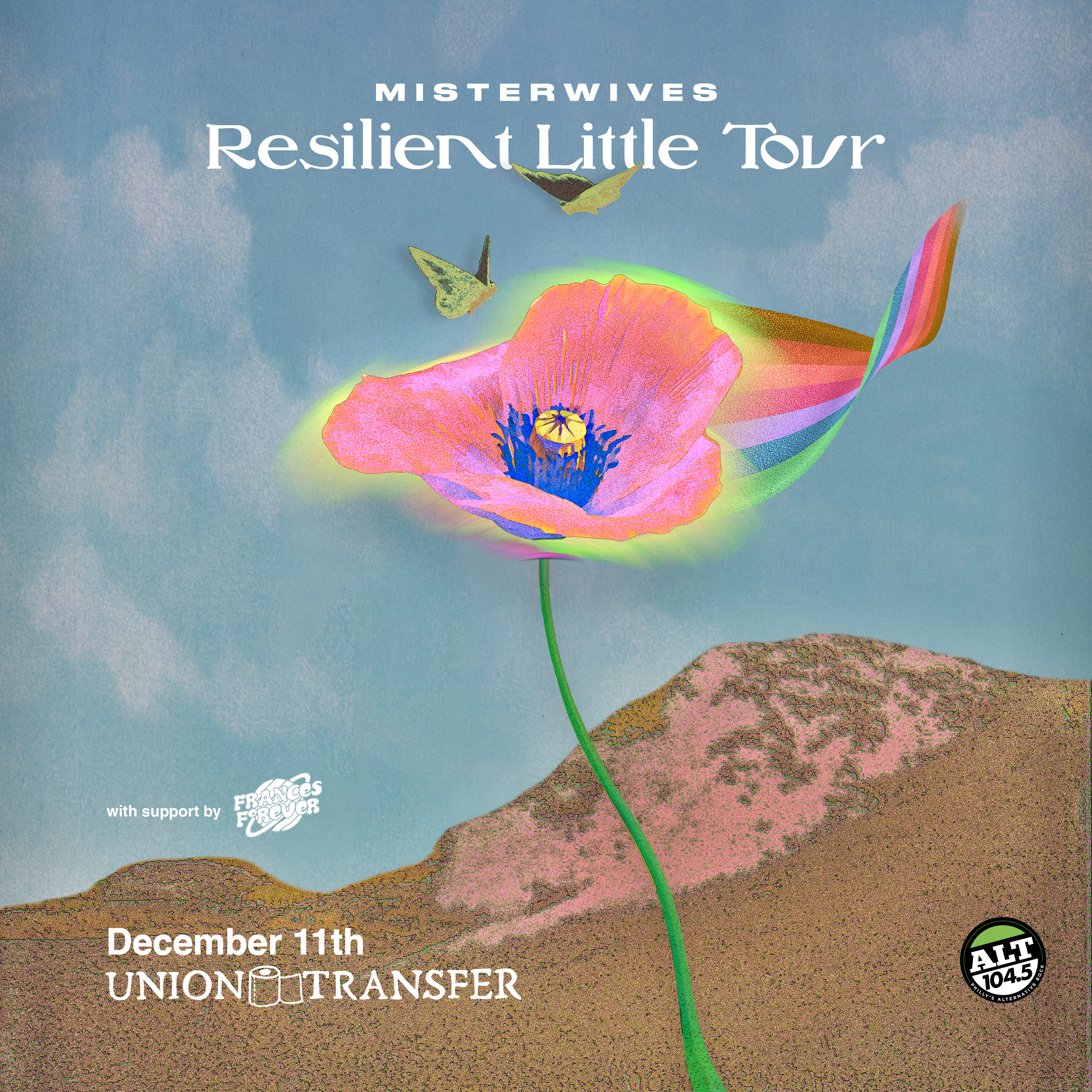 Show | 8pm // Doors | 7pm
MisterWives
In March 2019, in the depths of enduring the worst heartache of her life, MisterWives frontwoman Mandy Lee took a trip out to California's Antelope Valley to see the superbloom: a phenomenal blossoming of wildflowers way out in the desert, sprung from the enormous rainfall that drenched the region that winter. "My grandmother and my mother used to collect poppies and dry out the flowers when they lived in Spain, so my sisters and I all went there in their honor," Lee recalls. "At the time I was in a place of barely being able to get out of bed, and as I was standing in the fields with those flowers I just started to cry. I felt pretty lost and hopeless, but seeing all these flowers that aren't supposed to even grow made me feel like there could be some kind of light and happiness on the other side of the pain."
An intensely personal reflection on growth in unexpected places, MisterWives' new album Superbloom marks a moment of major transformation for Lee and her bandmates: Etienne Bowler (drums), William Hehir (bass), Marc Campbell (guitar), Jesse Blum (keys, trumpet, accordion), and Mike Murphy (saxophone). The New York City-bred band's third full-length and first album for Fueled by Ramen, the 19-track epic finds MisterWives greatly expanding their already-adventurous sound, introducing new textures and colors to their magnetic form of indie-pop.
With its unpredictable yet elegant flashes of disco and hip-hop and left-of-center R&B, Superbloom came to life in collaboration with a number of MisterWives' creative peers, including alt-pop trio Sir Sly and Dylan Bauld of flor. "In the past we've done records on our own, but for this one we ended up working with other people and coming up with a really fun mishmash of different styles, while still maintaining the MisterWives sound," says Bowler. To that end, Bowler joined producers such as Tim Pagnotta (COIN, Walk the Moon), Frans Mernick (Foster the People, A$AP Rocky), and Alex Salibian (The Head and the Heart, Young the Giant) in handling production on Superbloom, while Lee penned songs with co-writers like Sir Sly's Landon Jacobs and Grammy Award-nominated singer/rapper/songwriter K.Flay. "I needed to shake things up and work in a different way than I had in the past, and it was such a fun challenge to write with these amazingly talented people that I look up to," says Lee. "I feel like it opened me up and made me stronger, in a way that wouldn't have happened if I'd just been writing on my own." The result: a body of work that wholly captures the vast spectrum of emotions documented within Lee's lyrics, at turns volatile and euphoric and undeniably transcendent.
"Every single stage of making this album was so cathartic for me, and every single song needed to be written for me to get where I am now," says Lee. "I remember thinking at the beginning, 'Can I even write this album?'—it was like I felt unqualified to share my own truth. But working with people like K.Flay gave me the courage to write about things that were really difficult, and it was so freeing. The whole experience taught me that it's okay to be brutally honest."
Beginning with "The End" (one of five tracks also featured on MisterWives' 2019 EP mini bloom), Superbloom unfolds in a chronological and candidly detailed account of Lee's journey over the previous year, moving from despair to self-discovery to glorious rebirth. On songs like "Alone"—a delicate piece of electro-pop co-written with Sir Sly—the album takes on a near-devastating level of vulnerability, with Lee channeling the weary frustration of feeling alone in the grieving process during the last gasp of a relationship you never wanted to end. "Landon and I worked on 'Alone' together on the piano, but then we ended up putting this dancey beat to it—sometimes it's just easier to dance it all out, and work through the pain that way," says Lee.
One of the most exhilarating moments on Superbloom, "Rock Bottom" offers up the sort of heartbreak-recovery anthem that feels immediately essential. With its jangly guitar riffs, soaring vocal work, and wildly kinetic tempos, the track reveals Lee's gift for expressing heartache with unparalleled imagination ("I smashed my mirrors up 'cause I look like somebody else/My feet are cut up from dancing upon these broken pieces/You know heartbreaks can't break even"). "The day we did 'Rock Bottom,' I went into the studio saying, 'I'm not making anymore sad, ballad-y, soul-crushing songs,'" says Lee. "Louis [Schoorl, the song's co-producer] played that beat, and it came together so effortlessly. We were all dancing the whole time."
Several songs later, on "Decide to Be Happy," MisterWives slip into a more blatantly joyful mood, balancing the track's bright hand percussion and indelible sing-song melody with a bit of hard-won wisdom. "That song came from us talking about how happiness isn't something that's just given to you—it's genuinely a choice you have to make every day," says Bowler. Another burst of boundless joy, "The Colorist" emerges as one of the most dynamic and sonically complex tracks on Superbloom, matching its massive chorus and heavy rhythms with a particularly ethereal vocal performance from Lee. "It's a song about getting color back into your life, and all those wonderful feelings you have when you're first falling in love—even when it's terrifying to dive back into something after you've been hurt really bad," she says.
On the album's soul-stirring title track, MisterWives close out Superbloom with a moment of pure triumph, echoing the profound sense of possibility Lee discovered that day at the poppy reserve. With its chorus including a lyric Lee later adopted as a mantra in times of self-doubt ("I deserve congratulations, 'cause I came out the other side"), "Superbloom" draws much of its power from its graceful arrangement of so many potent elements: soulful horns and luminous piano melodies, hard-hitting rhythms and gospel-choir harmonies. "In a way I feel like that song's been in us for a really long time," says Murphy. "It's like an explosion of all these different ideas that we've been developing together over the years, and that all finally fell into place in just the right way."
In dreaming up the endlessly shapeshifting sound of Superbloom, MisterWives recorded in a series of studios in L.A. and New York—another departure for a band who created their 2014 debut EP Reflections in a closet at Lee and Bowler's old apartment in the Bronx. "This album was made in a lot of different environments with a lot of different collaborators, and yet sonically there are these threads that unite it all into one big, beautiful painting," says Murphy. And while the album-making process included many instances of playful spontaneity—such as when Lee built what would become the beat for "The Colorist" by messing around with a blender and spatula late one night in a friend's kitchen—the strength of Superbloom mainly lies in the band's tightly honed musicianship and near-telepathic connection. "We all play a bunch of instruments and bring that to the table every time we get in the studio, whether Jesse's playing accordion or ten different horns, or we're miking the guitar amp differently to get some crazy sound," says Lee. "It all happens very organically, and we play just as we would if we were teenagers in a garage." "Even though this is our job, it feels way more like play," Blum adds. "We're all making music with people we love, and it creates this neverending joy between the six of us."
That joy ultimately infuses all of Superbloom, instilling even the most anguished songs with an irrepressible radiance and warmth. And in sharing personal struggle with so much honesty and open-heartedness, MisterWives hope to spark a similar courage in each listener. "There's a lot of ugly truth in some of these songs, but I hope it shows people that you can get through the worst of the worst and make something beautiful out of it," says Lee. "No matter what terrible things are thrown at us in life, there's always the chance to grow in ways that you never expected, and come out stronger than you were before. So don't ever give up hope."
---
Frances Forever
Frances Forever can spin anything into sunshine. As the project of Boston-area singer-songwriter Frances Garrett, its myriad moods can send listeners reeling into romance or off floating in existential space. Garrett balances their familiarity with extremes with an undeniable ear for melody and a gift for writing tracks that could live at home anywhere on the pop timeline. paranoia party, the project's first EP in the wake of TikTok explosion "space girl," rockets forward with the past half-century of radio magic in its back pocket. Atop this glitter-shocked display, Garrett spills their guts about fumbling their own power.
"space girl," Frances Forever's smash single, targeted TikTok and is still blasting off. The bouncy indie-pop track, which also saw a reissue with fellow rising star Chloe Moriondo, has racked up nearly forty million plays worldwide and landed Garrett on a handful of Artist to Watch lists. paranoia party further seals their fate as a breakout act, showing off Frances Forever's mastery of vintage texture and 2021 attention spans in equal measure. From the doo-wop glaze of opener "depression" to the horn-flecked indietronica of "daylight," paranoia party carves its identity from stopovers in darker, braver territory. Those enchanted by "space girl" have plenty to root for, though, as the EP's title track serves as its boldest mission statement, stacking a story of college-party anxiety against a circus-tent waltz that glitches and stutters in line with Garrett's narrative confidence.
After "space girl," Frances Forever set their sets on a world far larger than the one they began to conquer. On paranoia party, their claim is staked more definitively than ever, and you're invited to the celebration.
"Paranoia Party," the title track to Frances Forever's forthcoming EP, revamps frontperson Frances Garrett's experiences at an unfamiliar college party into a darkly charming affair that gets weirder as they move through the rooms of their memory. There's a bit of waltzy charm to the song that gets jilted and jagged in a space full of living, loving, and Bud Light-soaked couches. Even with its circus-tent setup and cinematic pacing, "Paranoia Party" is the unlikeliest party jam of this summer.