Show Moved From April 18th to February 17th, 2021 - All Previously Purchased Tickets Honored | Into The Wild Tour
NEW DATE! : Dabin
Trivecta, Nurko, Last Heroes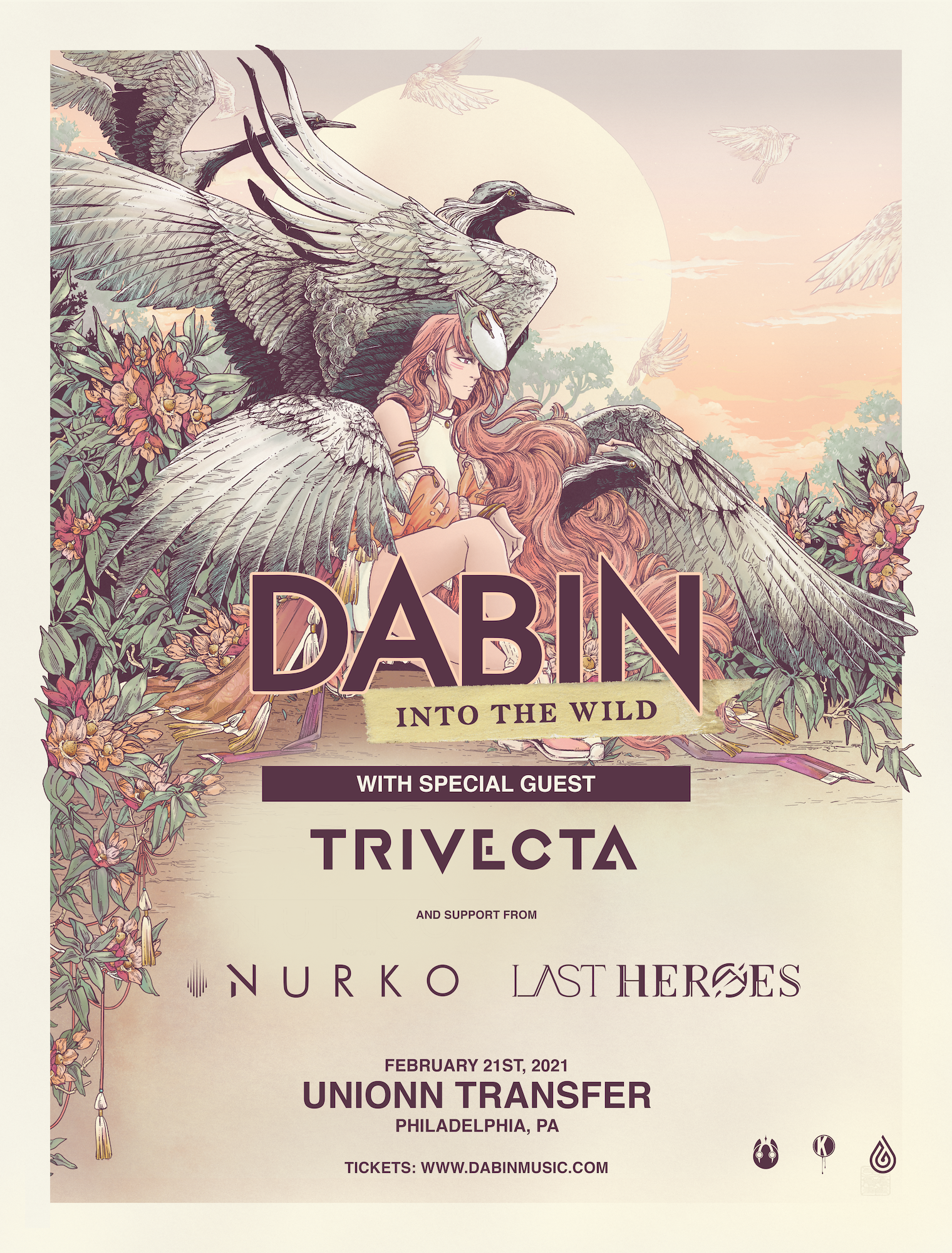 Show | 7pm // Doors | 6:30pm
The originally scheduled April 18th show with Dabin has been
moved
to February 17, 2021. Your previous tickets will be honored for the new date! You do not need to do anything different! If you cannot make the new date, we are happy to offer a variety of exchange options. Requests must be made by July 27th. For the quickest response, e-mail us directly at
info@utphilly.com
.
Dabin
Dabin is a JUNO nominated music producer/instrumentalist from Toronto, now located in Montreal. Having spent his teens learning to play the piano, drums and guitar, Dabin started producing electronic music in 2011. He quickly attracted the attention of Kannibalen Records and released his first tracks on the ever growing independent label only a year later. Now Dabin has increased his exposure by supplementing releases with Mr. Suicide Sheep's label, Seeking Blue.
 Dabin has gained millions of plays while refining his musical style into what it is today. His "Wild Youth" LP has seen Dabin solidify his signature sound which blends acoustic elements with electronic ones through a dance-pop lense. His high level of musicality has caught the ears of collaborators including Illenium, Seven Lions, SLANDER, Said the Sky and Black Tiger Sex Machine.
 Dabin had his biggest year yet in 2019. His sophomore album and its subsequent tour were major milestones in his developing career, which was followed by direct support on Illenium's Ascend Tour. He's losing no steam as we hit 2020, where he has numerous collaborations and originals in the works. 2020 will also see Dabin's new tour come to life where he will take his genre-defying live show to the next level with full production to compliment his instrumentation and mixing.
---
Trivecta
Sam Dobkin, better known as Trivecta, is a dance music producer and songwriter from Tampa, FL. He's stylistically known for creating melodic trance, dubstep, bass, and drumstep music.
Since his first release with Monstercat in 2014, "One Night Only" feat. Yohamna Solange, a single that's climbed to over 3.5 million plays across streaming services, Trivecta has continued to make waves in the trance, dubstep, and drumstep worlds. His ability to incorporate melodic elements with production that sometimes includes a progressive house and bass feel attracts would-be listeners across the dance music scene. 
Often working with other songwriters, producers, and vocalists, Trivecta stays true to his collaborative spirit as he continuously explores new ways to create music with other talent.
With the self-described goal of "making dubstep beautiful again," he's made a name for himself ever since with tracks that land in a compelling place between melodic dubstep, trance, bass and drumstep. In addition to receiving support from artists like Excision, The Chainsmokers and Don Diablo, he's joined melodic bass connoisseurs such as Illenium, Seven Lions, Dabin, Kill The Noise, and Wooli on tour and landed official remixes with them – his take on Illenium's "Fractures" has drawn over 5 million listens across streaming services alone. More recently, he collaborated with Excision & Wooli on "Oxygen" featuring Julianne Hope, which has already amassed nearly half a million streams with support from UKF & MrSuicideSheep. Both his remixes and original work have drawn attention from the most crucial tastemakers in the game, including Dancing Astronaut, EDM Sauce, MrSuicideSheep, and more. 
Paving a unique lane for himself in the world of electronic music, Trivecta certainly shows no signs of slowing down, with plenty more in store for 2020. 
---
Nurko
Some music gives you goosebumps. That music usually isn't played in the club. Nurko wants to change that.
Jack Leech always knew he would be making music, it just took a while for him to find the perfect fit. Growing up in New Jersey in a family with generations of artists, he was encouraged to be creative since birth. Picking up both drums and piano as a child and studying music in college, he applies his classical knowledge of music and music theory to buzzing genre blending sounds as Nurko.
Growing up on the internet, Nurko experimented by producing music within the trending sub genres of the time, starting with Moombahton, moving to Dubstep, and eventually playing around with Trap, Melodic Trap, and Future Bass. Inspired by both the mature sounds of Amon Tobin and Flume, the pop approved melodies of Jack U, and the fandom inducing energy of Bassnectar, Nurko makes songs that make you remember where you were when you first heard them.
Wanting to create a sound he hadn't heard yet, Nurko decided to channel his emotions into a style of electronic music uniquely him, starting with his first big track, "Goodbye," in 2015. Since then, his next release "Your Embrace," continued to give his fans what he likes to call, "the feels." They loved it, enough to listen over 2 million times. "Your Embrace" was featured on YouTube channels like MrSuicideSheep, Chill Nation, and was included in 'Neptones," JC Caylon's compilation that reached number one on the iTunes dance chart. His next track, "Let Me Go," ft. Alina Renae set to be released January 2017 features his signature style of emotional chord progressions mixed with just hard enough drops, complimented with beautiful female vocals.
For Nurko, the melody is everything. Whether it's in a low key trap track, or the perfect soundtrack to a your pre-game, do not mistake his music for another soon to be forgotten future bass track. Nurko makes music you can listen to on loop, discovering new layers with each play.
---
Last Heroes
Electronic music duo from Colorado.