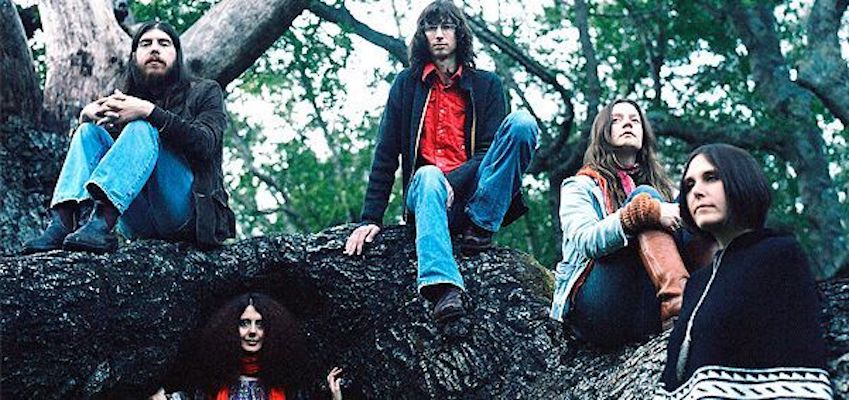 Show | 8:30pm // Doors | 7:30pm
Espers
After what seems to be an interminably long gap and born into an inextricably changed world, Espers III walks among us, finally and finely.
It's not as if Espers completely disappeared following their acclaimed first and second albums and tours. They played the odd show here and there — but with time and focus given to Meg Baird's solo album Dear Companion, The Valerie Project project and Helena Espvall's collabo- rations with Masaki Batoh and others, not to mention the launching and flight of Greg Weeks' Language of Stone label, three years passed like a day or two in the life of Espers.
Picking up the threads with ease, Espers III was intended to be an aural reversal of the layered sound of II. The goal was to record fewer tracks in order to achieve a stronger, more oxygenated sonic presence. Where II was almost claustrophobic in its density and darkness, III was envisaged as being somehow lighter, effervescent; perhaps even of a cheery disposition at times (whoa there! Don't go not breaking our heart, Espers). Under these auspices, recording started in late 2008 and spilled into the spring and summer of 2009. As more time passed in the recording process, a growing dementia within both song and lyrics emerged, making even the most ethereal songs on III seem oddly unwholesome to all involved.
As with past releases (both by Espers and significant others), III was recorded with the vinyl LP in mind, playing as a whole divided into two equally weighted sides. Recorded to analog tape and mixed to analog tape again at the end, the songs ended up in a stippled, rippling, ever-flowing space, another important factor in the realization of III.
"Space" is a core concept here — each of these songs in some way access new space, whether they are envision- ing, locating, or claiming and colonizing it. In fact, III's working title was Colony, owing to a subtextual thought process that encompassed aspects of Herzog's Aguirre, Heart of Darkness, cult groups, deep Amazonian treks, religious nation building, ritualistic drug ceremonies (taking drugs to take canoe trips to take drugs on) — eg., escape from assimilation, surviving cultural wars by embedding themselves in the wilderness, among friends and fellow travellers. The cover aesthetic and Xavier Schipani's arresting artwork mirror these themes and Espers' desire to reach beyond what might be expected of an Espers album with metaphoric imagery and increased dimensionality — not just a new Espers album, but indeed, a new Espers.
This said, the classic sound of Espers is intact (Greg Weeks: vocals, electric guitar, synths, mellotron, piano; Meg Baird: vocals, acoustic guitar, Rhodes; Brooke Sietinsons: acoustic guitar, art direction; Helena Espvall: cello, Otto Hauser: drums / percussion): they're still in love with folkish chordings and patterns, carefully calibrated synthesizer lines and acidic guitar leads in support of the varied vocal effects of Weeks and Baird. Additionally, Espers III features Greg Weeks stepping into the shoes of the bass, reshaping the bottom along with drummer Otto Hauser. Finally, Espers III was the last thing recorded in Greg's Hexham Head studio. Weeks and the studio have moved from city locale to pastoral backdrop, a relocation that will no doubt factor into future Espers endeavors. As the road rises to meet them and the wind of new thought and fresh music blows them forward to the future, III is but one step along the way.
---
Vetiver
Vetiver is what I've been calling my songs and recordings since about 2003 or so. I live in San Francisco, have since 1998. My touring band and the musicians I've recorded with over the years are always changing, though many friends and players have stayed with me over albums and tours. The one constant has been Thom Monahan who has engineered and co-produced every Vetiver album. Thom lives in L.A., where most of Complete Strangers was recorded.
The album came together slowly over demos at my home in San Francisco and quick trips to L.A., continuing on with Thom at his studio. It moved in fits and starts for a couple years. Once we had the basic arrangements we jumped in the studio with Bart Davenport, Gabe Noel and Josh Adams for a few days to put down rhythm tracks. That's when the album really took shape. Thom & I fleshed everything out with a few more musicians in San Francisco & L.A. and eventually Complete Strangers arrived.
The songs on Complete Strangers bear some resemblance to the album's title. They share things in common but come from different places, different times. "Stranger Still" is an anthem for insomniacs, illuminating the hours when the world exceeds our grasp. "From Now On" rings out some emotional tinnitus, the moment a night runs away from you, when freedoms turn into responsibilities. The album builds around dualities, the way people pair at parties. "Current Carry" percolates with the confidence of love, while "Confiding" reveals how vulnerable we are chasing love. "Backwards Slowly" and "Edgar" are vignettes of transition, more ebb than flow. As with many of Vetiver's better moments, sunshine is only a chord away from melancholy. An introspective lyric underlies an extroverted chorus. Subtlety tries to be outgoing, loneliness familiar, in an effort to connect the dots of life's ellipsis.
I'm still figuring the album out. It feels like someone I've just met yet known for a long time.
– Andy Cabic
---