The Distillers
Starcrawler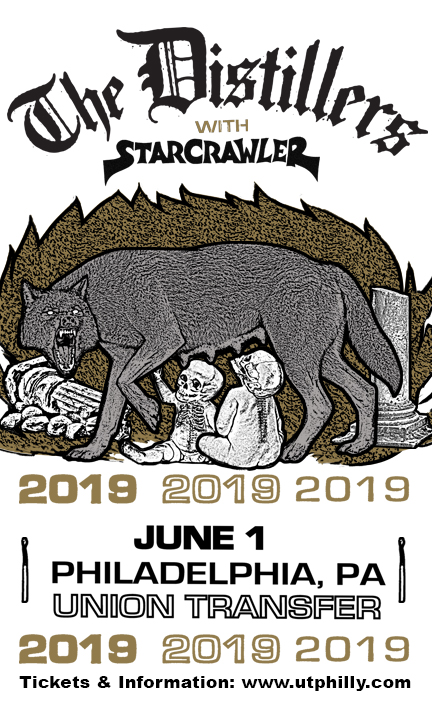 Show | 8:30pm // Doors | 7:30pm
The Distillers
The Distillers are excited to announce that the physical version of their 2018 single "Man vs. Magnet" b/w "Blood In Gutters" will be released on February 14, 2019 via Third Man Records. This vinyl 7", pressed at Third Man Pressing in Detroit, is the first chance to own new music from The Distillers in over 15 years.
To call The Distillers simply a punk band doesn't do justice to either the band or the word "punk". Guitarist, lyricist, and vocalist Brody Dalle, uses her medium as a platform for a higher plane of visceral lyricism and independence. Few modern day punk icons have not only embodied the genre so truthfully but also transformed the depth of what it can mean so thoroughly. Originally formed in 1998 in Los Angeles, the energetic band, with Dalle at the helm, released a string of damaged and powerful albums, EPs and singles with California punk labels Epitaph and Hellcat, then released their third masterpiece of an album, Coral Fang, on Sire before going on an untimely hiatus and ultimately splitting in 2006. After breaking a 12-year silence on social media late last year, these two new tracks from the group are a triumphant return for their rabid and devoted fanbase.
"Man vs. Magnet" kicks off with crashing drums, thumping bass and melodious guitar, before transforming into a rough-and-ready punk anthem. The b-side "Blood in Gutters" is full of a wistful, wild energy from start to finish, with Dalle's raw vocals gleaming as the chorus hits. Third Man is honored to be a part of The Distillers' continuing legacy by releasing the physical version of this single.
---
Starcrawler
Starcrawler are a truly original young band from the city of Los Angeles. Led by their nineteen-year-old frontwoman Arrow de Wilde, their take on dark and heavy rock & roll both recorded and through their chaotic live shows, brings such music into the 21st century as an almost transgressive pop music. 2019 brings lots of new music and touring, starting with their massive new single "She Gets Around," a song the band calls "an anthem for backstabbers." It is a first look at their soon-to-be announced new album and follows December's "Hollywood Ending" which earned praise from NPR, Rolling Stone, and spent several weeks at #1 on specialty radio.
Capturing Arrow de Wilde's manic live performance, "She Gets Around" was produced and mixed by Nick Launay (Nick Cave, David Byrne, Yeah Yeah Yeahs) and was the first of many times to come that guitarist Henri Cash, drummer Austin Smith and bassist Tim Franco have had a chance to really spend time in a studio and aim to make a record vs simply document a live moment. "She Gets Around" hints at 90s alt-rock bands such as The Breeders and Nirvana, while showcasing the strange, one-of-a-kind spirit and ferocity that is Starcrawler.
The new year also brings a long slate of touring as they record and release their second LP also produced by Nick Launay. This summer brings slots at Glastonbury, Eurorockennes and more festivals as well as upcoming US tours with the likes of Beck, Cage the Elephant, Spoon, and The Distillers. This fall, they embark on a full headline world tour for the first time. 
Starcrawler are all LA natives and met in high school. Their self-titled LP was released one year ago in January by Rough Trade Records to rave reviews. Since then, they've toured non-stop all over the world, including triumphant sets at Primavera, Rock Am Ring, Download Festival, Voodoo Festival, Fuji Rock, Reading, Leeds and more. In March, they won the 2018 SXSW Grulke prize for best US act after blowing minds at each of their nine shows. They were VEVO DSCVR artists with video testimonial from Shirley Manson who said: "I feel like Starcrawler, and in particular Arrow, are really challenging the norms in which women are seen in music." The amount of support they have received from their fellow artists has been overwhelming. They opened shows for the Foo Fighters at Olympic Park in London and toured with The Distillers and MC5.
They have made a constant name for themselves not only live, but with their incredible visuals that both harken back at points to the 90s heyday of MTV but also speak to their own highly developed aesthetic and individual spirit. See videos for "Hollywood Ending" and "I Love LA."  Their upcoming LP with Nick Launay makes explicit that this group of young artists are now figuring out how to capture their wild energy, spirit and engrossing aesthetic and lay it all down on tape.